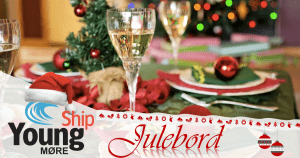 Velkommen på julebord! (English below)
Youngship Møre har gleden av å invitere deg til årets julebord med påfølgende festligheter på Hotell Noreg i Ålesund, fredag den 15. Desember.
Arrangementet er åpent for alle Youngship medlemmer. Husk å betal årsavgiften dersom du ikke har gjort det. Denne kan betales på Vipps sammen med billetten til julebordet. Kontakt oss dersom du har problemer rundt dette.
Påmeldingsfristen er fredag 08. Desember. Egenandelen for å delta på arrangementet er satt til 399kr. Dette inkluderer tradisjonell julebuffet og aperitiff ved ankomst.
Lokasjon: Hotell Noreg i Ålesund
Tid & dato: Fredag 15. desember kl.19:00
Billettpris (Egenandelen): kr 399 (årsmedlemskap må også være betalt)
Dresskode: Klassisk julebordsstil (Kjole, dress etc.)
Bruk skjemaet under for å melde deg på.
Vi gleder oss til å ønske deg velkommen!
————————-
English version:
YoungShip Møre invites you to this year's Christmas party at Hotell Noreg in Ålesund, Friday December 15th.
The event is open for all YoungShip members. Remember to pay the yearly membership fee if you have not already done so. Both the membership fee and the event fee can be paid in Vipps. Please contact us on email or Facebook if you are having troubles or unable to use Vipps.
The deadline for signing up is Friday December 8th. The event fee is 399 nok. This includes a traditional Christmas buffet and welcome drink.
Location: Hotell Noreg in Ålesund
Time & date: Friday 15. December @19:00
Event fee: 399 NOK (yearly membership fee should also be paid)
Dresscode: Classic Christmas party style (dress, suit, etc.)
Sign up using the form below.
We look forward to welcoming you!
Signup form for Julebord 2023
QR-kode for Vipps-betaling av julebord og medlemskap: