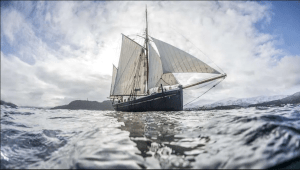 (English below) YoungShip Møre inviterer til seiltur med bankskøyta Storeggen. Storeggen er en kopi av en ålesundsk fiskeskøyte frå 1890–årene. Med full seilføring har skøyta sju segl, og fiskerne den gangen var gode seilere. Dette er en tur for de som ønsker å oppleve hvordan det er å seile ei gaffelrigga fiskeskøyte som Storeggen. Du må ikke kunne seile fra før, men du må kunne ta i et tak. Vi går frå Fiskerimuseet, ut Molja og dit vinden tar oss.
Ta med: Varme klær og niste, gjerne sjøstøvler og arbeidshansker. Sikkerhetsutstyr om bord.
Tidspunkt: Fredag 01. september kl. 17:45 – 21:00
Etter seilaset blir det arrangert Ankerdram i Ålesund sentrum.
På – og avmønstring: Fiskerimuseet, Molovegen 10, Ålesund
Egenandel: 150nok. Arrangementet er for YoungShip Møre-medlemmer (og følge). YS "alumni" er også velkomne.
Max 12 passasjerer – først til mølla med påmelding! Påmelding skjer via skjema under.
Hvis du har spørsmål eller problemer med påmelding, kontakt YoungShip Møre på Facebook eller email.
English:
YoungShip Møre invites you to come sailing with the wooden sailboat Storeggen, a copy of traditional Ålesund fishing vessels from the 1890s with up to seven sails. This is a trip for those who want to experience what it's like to sail a sailing fishing vessel like Storeggen. You do not have to have sailing experience, but you need to be physically able to contribute to the sailing activities. The trip leaves from Fiskerimuseet, past Molja and where the wind takes us.
What to bring: warm clothes and a packed lunch, preferably waterproof boots and work gloves. Safety equipment you will get on board.
Time: Friday 01. september at 17:45 – 21:00.
After the event there will be an Ankerdram in Ålesund city centre.
Boarding and off-boarding the ship: Fiskerimuseet, Molovegen 10, Ålesund.
Event fee: 150nok. Event is for YoungShip Møre members (and +1s). YS "alumni" are also welcome.
Max. 12 passengers. First to sign up gets the spots. Sign up through the form below. Any questions or problems signing up, please contact YoungShip Møre on Facebook or email.
Registration has closed. Contact YoungShip Møre if you have any questions.