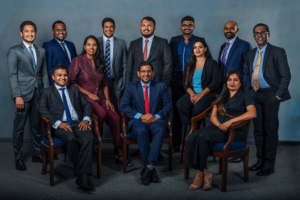 The new YoungShip Executive Committee was appointed at the recent Annual General Meeting held on the 11th of February 2022.
After the YoungShip's 2021 AGM, the committee were very optimistic about the Covid situation in Sri Lanka & expected the situation to improve in comparison to 2020. Enthusiasm was high for a very eventful and engaging year with the global vaccine rollout. The committee planned a very active events calendar for 2021, however the situation & country regulations made it impossible to action the physical events planned and the committee had to in a very short period of time adjust our activities to be hosted virtually.

With majority of the membership working from home and workplaces operating virtually, YoungShip took this opportunity to further grow its online presence & increase our activities on the newly launched social media pages. YoungShip was able to launch its YouTube channel with videos on International Women's Day, International Seafarers Day & the very successful panel discussion – New Normal in Shipping, Are Current Shipping Trends here to stay?. YoungShip also conducted a virtual games & networking event for our members called The Connect in September 2021 & assisted CASA (Ceylon Association of Shipping Agents) to conduct the successful CASA YoungShip Virtual Pub Quiz in November 2021. As the situation in the country improved gradually, YoungShip was able to conduct a physical Pub Quiz adhering to all Covid guidelines issued by authorities in January 2022 that was well participated and appreciated by the membership.

The Executive Committee for the year 2022 comprises a group of committed, enthusiastic young professionals. The 12-member Executive Committee is as follows:

Office bearers:
Chairman – Mr. Rishantha Mendis (Prudential Shipping)
Vice Chair – Ms. Maleena Awn (Meridian Maritime Services Ltd)
Secretary – Mr. Nirmal Dissanayake (Eastern Maritime (Colombo) Ltd)
Treasurer – Mr. Prashan Fernando (Panama Shipping (Pvt) Ltd)
Assistant Secretary – Ms. Aruni Wijepala (Hayleys Energy Services Lanka (Pvt) Ltd)
Assistant Treasurer – Mr. Sunera Wijesekara (Eastern Maritime (Colombo) Ltd)
Immediate Past Chair – Mr. Jehan Rodrigo (Mackinnon Mackenzie & Co (Sh) Ltd) 
Members of the Executive Committee:                                                 
Mr. Shane De Alwis (Hapag Lloyd Lanka (Pvt) Ltd)
Mr. Shehan Perera (Sri Lanka Shipping Company Ltd)
Mr. Imaad Hameem (Evergreen Shipping Agency Lanka (Pvt) Ltd)
Ms. Patali Karunarathne (Ceyline Agencies (Pvt) Ltd)
Mr. Dineth Rajapakse (McLarens (Pvt) Ltd)                                          
YoungShip Sri Lanka's plans for the forthcoming year include the YoungShip Open Quiz 2022, many networking nights, pub quizzes, seminars / workshops with industry speakers / panellists, CSR initiatives to name a few of the projects in the pipeline. 
The Executive Committee wishes to convey its sincere thanks and appreciation to its Patrons & The Ceylon Association of Shipping Agents (CASA) for their continuous support and guidance to YoungShip.
https://www.ft.lk/shippingaviation/YoungShip-Sri-Lanka-appoints-new-Executive-Committee-at-AGM/21-733849