This year's summer party will take place on the premises of AdeB on August 17th.
As our main sponsor, AdeB has gone above and beyond to ensure that we have an amazing event. If the weather permits, we will enjoy the party on their rooftop, with a view of the sea.
Additionally, we are thrilled to announce that a speaker from Color Line will be joining us.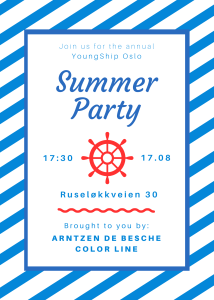 The YSO Summer Party is exclusively for YoungShip members, with a ticket price of NOK 250. Attendees can look forward to delicious food and refreshing drinks throughout the event.
On behalf of the entire YoungShip community, we would like to express our gratitude to AdeB and ColorLine for their cooperation
Sign-up via below link