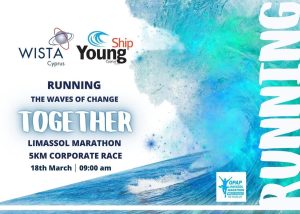 Dear Members,
It's time for WISTA-YoungShip Cyprus – Running the Waves of Change Together!
We are happy to announce that YoungShip Cyprus in a joint team with WISTA Cyprus will be participating in the OPAP Limassol Marathon 5KM Corporate Race which will be held on Saturday, 18th of March 2023 at 9:00 am across Limassol seafront road.
The Starting Point of the Primetel 5KM Corporate Race will be Molos, Limassol.
Below you can find the link to register yourself directly with the team: https://raceroster.com/registration/a009b4a9-5cb0-44ad-a7bd-52e43d8bb9aa/entry?team=505484
The registration is Free of Charge
Appreciate if you can register by the 10th of March online. After this date, please drop us an email and we will be happy to register you.
We look forward to seeing you there and will get in touch for the hand over of Bib numbers in due course.
P.S. For those registering, the meeting point on the day will be in front of the BSM building at 8:45